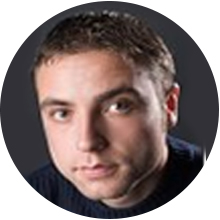 Mircea RUBA Lecturer
Tel: +40 264 401827
Tel: +40 264 401828
SHORT
biography
Mircea Ruba was born in 1983, in Satu Mare, where he graduated the primary school and The "Mihai Eminescu" National College. In 2002 he was accepted to study the Faculty of Electrical Engineering of the Technical University of Cluj Napoca at the General Electrotechnics specialization. In 2007 he graduated this faculty and in the same year he signed up for the master and PhD studies at the same faculty. In 2008 he graduated as Master in Electrical Engineering and in 2010 he received the PhD in Electrical Engineering. During 2010-2011 he followed a Post Doctoral research stay at the Univeriste Libre de Bruxelles. He joined the Department of Electrical Machines and Drives in October 2011 as assistant. Since March 2015 he is Lecturer, and responsible of System Integration Course and of practical applications at several disciplines dedicated to the students of Faculty of Electrical Engineering and Faculty of Computer Science and Automation at the Technical University of Cluj-Napoca.
COURSES
System Integration course is dedicated to the 4th year Electrical Engineering student. It is an optional course and its goal is to gather together the knowledge gained by the student so far, in the first three years of studies and analyze complete and functional electromechanical systems. The domains of interest reach electrical energy harvesting, electrical and hybrid vehicles presenting the newest analysis technics for their efficiency increase.
RESEARCH TOPICS AND INTERESTS
Mircea Ruba's research is focused mainly on the development of electrical propulsion units for electrical and hybrid vehicles. This reaches out to all assemblies such as machine design, power electronics and their control.
Another domain of his interest regards programming FPGA processors to perform real time analysis via complex simulations of the electromechanical systems. The goal is to increase the robustness of the control methods, optimization of the efficiency and fault occurrence behavior and their compensation methods.
OTHER INFORMATION
Mircea Ruba's scientific results till now are emphasized in over 65 conference and journal publications, 2 books, 2 patents, over 10 awards at innovation exhibitions and the active researcher membership in 16 research grants.
For more details about his scientific results, you are invited to visit his personal web page: Mircea Ruba