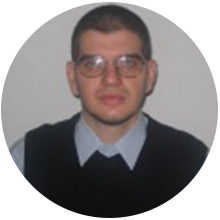 Dan-Cristian POPA Lecturer
Dan.Cristian.Popa@emd.utcluj.ro
Tel: +40 264 401827
Tel: +40 264 401828
SHORT
biography
He was born on 7th of August in Satu-Mare, Romania. After graduating the "Mihai Eminescu" high school from Satu-Mare he attended the courses of Faculty of Electrical Engineering of the Technical University from Cluj-Napoca which he graduated in 2002. After one year of Thorough Studies in "Computer Aided Design", he started his Ph.D. thesis on the topic of a transverse flux linear machine. He defended his thesis in 2008 receiving the distinction "cum laude". He had been an Assistant Lecturer at the former Chair of Electrical Machines since 2006, and from 2013 he is Lecturer at the Department of Electrical Machines and Drives. Between 2010 and 2013 he was part of a postdoctoral program at the Technical University from Cluj-Napoca.
DIDACTIC ACTIVITY
He is involved in the teaching activity at three levels: course, project and laboratory.
COURSES
- Electrical Machines and Drives, Faculty of Automation and Computers, Satu-Mare extension, 4th year of study: the course introduces to the students the basic elements of the conventional and special electrical machines and their drives;

- Industrial Logistics, Faculty of Electrical Engineering, optional discipline, 4th year of study: the course presents to the students all the activities from a firm of electrical profile, that are connected to the main activity: transport, distribution, material handling, organization of the firm, drawing of the technical-economic documentation.
RESEARCH TOPICS AND INTERESTS
the general fields of interest are represented by the design and numerical analysis of the electrical machines, from which he is focused several topics: transverse flux machine, induction machine, power transformers, modern methods of computation of the iron losses in the electrical machines.
He worked at his Ph.D. thesis on a transverse flux variable reluctance planar machine in modular construction which was designed, numerically analyzed and experimentally tested. His postdoctoral topic was a transverse flux variable reluctance linear tubular machine in modular construction for which the same steps were followed. In a research project he has designed and numerically analyzed a transverse flux machine with permanent magnets on the rotor. All these numerical analyses were performed using 3D software packages. In the past years he has worked mainly on the design and 2D numerical analysis of the induction machine, especially high speed structures. The design of the high power transformers is an always topical subject due to the large scale use of these devices. The study of the methods of computation of the iron losses in the electrical machines is a common topic for all above mentioned ones, but not only.
OTHER INFORMATION
- Has published 2 books, 43 papers, 1 award at an international conference;

- Was director of a research project and member in other 7 major research national or international projects;

- Had done research stages at Le Havre University (France), I.C.P.E. Bucharest and Brose GMBH Wuerzburg (Germany);

- Good skills in Flux 2and 3D, Mathcad, Matlab, Autocad, Office;

- Speaks English (very well), French and Italian (well);

- Not married.